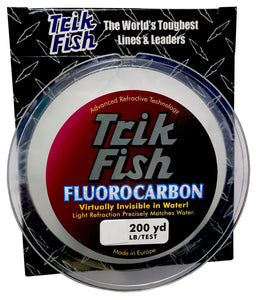 Virtually

 

INVISIBLE

 

in water!
Light refraction precisely matches water for near invisibility

Super long and smooth casting vs other competitors


Strongest and most abrasion-resistant fluorocarbon on the market
Trik Fish exclusive high-tech, soft, fluorocarbon line that has virtually no memory and incredible knot strength. It does not have the "milky" look that most fluorocarbons have.. which defeats the purpose of a stealthy approach in your fishing line. Available in 200 yards and bulk spools.
Diameter Breakdown:

2LB - .14 mm
4LB - .16 mm
6LB - .18 mm
8LB - .20 mm
10LB - .25 mm
12LB - .30 mm
15LB - .35 mm
17LB - .38 mm
20LB - .40 mm
25LB - .45 mm
30LB - .50 mm