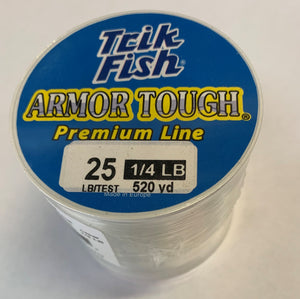 Virtually

UNNOTICEABLE

under-water!
Clear line that is nearly impossible to view once in the water

Super long and smooth casting vs other competitors

Strongest and most abrasion-resistant mono-filament on the market
Trik Fish Armour Tough Clear is a

premium line

that virtually blends into a natural underwater environment. Clear is available in 1/4LB, 1LB, and 5LB spools.
Diameter Breakdown:


8LB - .27 mm
10LB - .30 mm
12LB - .32 mm
15LB - .40 mm
20LB - .45 mm
25LB - .50 mm
30LB - .55 mm
40LB - .65 mm
50LB - .75 mm
60LB - .80 mm
80LB - .90 mm
100LB - 1.10 mm
125LB - 1.20 mm
150LB - 1.35 mm
200LB - 1.55 mm