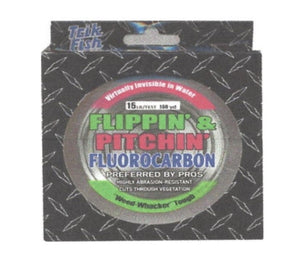 Virtually

INVISIBLE

in water!
Light refraction precisely matches water for near invisibility

Smooth line to allow easy flipping/pitching in any situation

Strongest and most abrasion-resistant fluorocarbon on the market
Flippin' & Pitchin' Fluorocarbon is tough enough to fish in the heaviest cover, yet unlike Braid it disappears in the water and that makes it effective on bright days in clear water or when Bass have lockjaw. Available in 150 yards.
Diameter Breakdown:

15LB - .35 mm
20LB - .40 mm
25LB - .45 mm