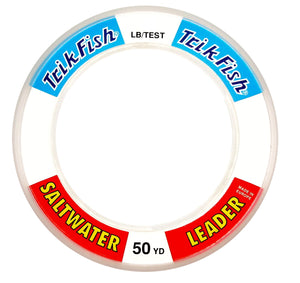 #1 Choice of Anglers Worldwide!
Strongest and most abrasion-resistant monofilament

 

on the market
Utilizes an open and user-friendly wrist spool

Nearly INVISIBLE underwater
If you are looking for abrasion resistance and durability, "The Original" Saltwater Leader has been tested and proven under the toughest fishing conditions -- and it always comes out on top! Featuring an open, user-friendly wrist spool, the Trik Fish Saltwater Leader is available in versatile selections: Camouflage and Clear.
Diameter Breakdown:

10LB - .30 mm
12LB - .35 mm
15LB - .40 mm
20LB - .45 mm
25LB - .50 mm
30LB - .55 mm
40LB - .65 mm
50LB - .75 mm
60LB - .80 mm
80LB - .90 mm
100LB - 1.10 mm
125LB - 1.20 mm
150LB - 1.35 mm
200LB - 1.55 mm
250LB - 1.70 mm
300LB - 2.00 mm
400LB - 2.20 mm